Back
Bolesław Kapela
1891 - 1942
Edit
Born 7.7.1891 in Wągrowiec
Died 30.12.1942 in Mauthausen
Biography
Bolesław Kapela, son of Ludwik and Leokadia (maiden name Burkiewicz), was born on 7th July 1891 in Wągrowiec (Wongrowitz in German). After graduating from college he became a printer and seal engraver, just like his father. In his 20's Bolesław received a set of machines from his father which enabled him to earn money. He opened his own company located at Nowa 4 Street (Neustrasse in German), which today is called Paderewskiego Street. In 1912 Bolesław moved to Berlin in order to improve his printing skills. Two years later during I World War he was incorporated into Prussian air force. Bolesław helped insurgents during uprising in Wielkopolska by secretly storing weapons in his father's printer house. He actively participated in insurgent battles for Ławica airfield. After the war in 1919 took control over his family's business. Apart from printer house he ran seal and engraving workshop which functioned in Poznań until 1953. Bolesław was a longstanding vice president of Polish Falcons' Alliance (Związek Sokołów Polskich in Polish), president of Trade Union of Polygraphic Workers (Związek Zawodowy Pracowników Poligraficznych in Polish), municipal councillor of Poznań, and an adjudicator for many years.
Bolesław's wife, Sofia (maiden name Szews), was from from Mąkowarsko near Bydgoszcz. They got married in 1920 in Poznań. This marriage brought five daughters: Czesława (b.1921), Krystyna (b. 1923), Aleksandra (b. 1926), Eugenia (b. 1928), and Gabriela (b. 1930).
During german occupation Boleslaw Kapela falsified passes to General Governorship and printed fake food ration cards. As a result of denouncement on 11th of November he was arrested by the Gestapo alongside with his wife and two other men present at that time in his house. Bolesław was interrogated in Fort VII. During the process on 13th of July 1941 he was sentenced to death, however after revision his sentence was changed to 12 years of imprisonment. In 1942 Bolesław was moved to concentration camp in Mauthausen alongside with a transport of 1130 political prisoners. In the camp he was put into protective custody (Schutzhaft in German). During registration Bolesław was assigned with camp number 18117 and printer was entered as his profession.
After 3 days, on 15th of December 1942 Bolesław was moved to Mauthausen camp's branch Gusen.
As a result of harsh conditions in sub-camp he died on 30th of December 1942. According to death register, death occurred at 7:30AM on block 17 in camp Mauthausen.
The reason given for his death was ulcerative colitis (Eitriger Dickdarmkatarrh in German), however it was a common procedure to falsify prisoners' death causes.
The company of Ludwik Kapela was confiscated by Germans in 1939 and transferred to Arnold Berg who was appointed as provisional administrator (Kommissarischer Verwalter in German).
In 1948 Zofia Kapela seeked to receive a Safe conduct, which she received. From that date the business was conducted by one of her younger daughters - Aleksandra. Unfortunately, the seal workshop was soon closed in 1953.
Paulina Chrząszcz, Szymon Bauman
Bibliography:
J. Mulczyński, Rodzina Ludwika i Bolesława Kapelów na Sołaczu, [w:] Kronika Miasta Poznania 1999, T. 67, nr 3,
s. 232-248.
Polski Słownik Biograficzny, T. XI, s. 626-627.
Słownik Pracowników Książki Polskiej, Warszawa-Łódź 1972, s. 395-396.
Files
Send information about this person...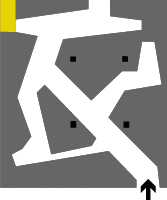 Location in room
Print version