Back
Stefan Adam Kruczkowski
1911 - 1941
Edit
Born 24.12.1911 in Kraków
Died 17.8.1941 in Gusen
Biography
Stefan Adam Kruczkowski was the son of Maria, née Michalski, and Ludwik Kruczkowski. Before the war he graduated from the officer training college of the Polish army with the rank of lieutenant. Because of his continuously deteriorating health (eyesight), he was transferred to the reserves. He worked in an office of the city of Kraków, Tax Office II, at 17 Kanonicza Street. After the mobilisation he served in the September campaign. During the occupation of Kraków he worked in the clandestine military organisation Związek Orła Białego (Union of the White Eagles), better known as Organizaja Orła Białego (Organisation of the White Eagles) and renamed in 1940 as Związek Walki Zbrojnej (Union of the Armed Struggle). He was arrested by the Gestapo during their operation against the Organizaja Orła Białego and deported to the Mauthausen/Gusen concentration camp on 25 May 1941. He was registered under prisoner number 12607 and housed in Block 4, Room A. He died there on 17 August 1941.
Darek Kruczkowski
Translation into English: Joanna White
Files
Send information about this person...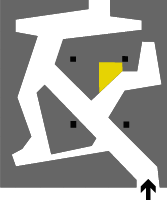 Location in room
Print version